Facebook ad objectives selection can sometimes be very tricky.
After reading this post you'll know everything you need to know about Facebook Ad objectives.
How many ad objectives does Facebook have?
Facebook has total 11 Ad objectives. They have divided the Ad objectives into 3 categories.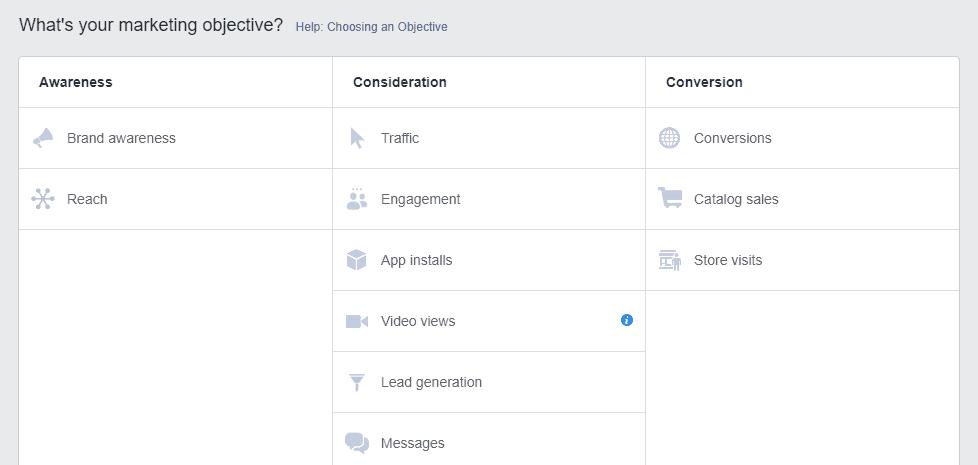 Awareness, Consideration and Conversion.
The most important thing to remember with Facebook ads is that you get what you ask.
I will explain this further in this blog post.
Keep reading 🙂
Let's Discuss Awareness Ads
You can use these ads to build Awareness for your brand.
Facebook will try to deliver your ads to maximum people.
Facebook has divided the Awareness stage into 2 parts:-
1. Brand Awareness
2. Reach
Practically there is not much difference between these two except for one thing.
In reach objective, you can cap your ad frequency.
By capping your frequency you can control how often people see your ads.
For ex:- I can cap 1 impression every 2 days. It means one individual will see my ad maximum one time every 2 days.
For both these ads, you are charged based on impression.
Consideration
Facebook has divided this into 6 categories.
1. Traffic
2. Engagement
3. App Installs
4. Video Views
5. Lead Generation
6. Messages
Traffic
If you want to generate loads of traffic to your website you can go for Traffic ads.
Do remember, the Facebook goal here is just to generate more and more clicks on your ads.
You will notice situations where you will see 50 link clicks whereas only 20 Pageviews.
Many people may press the back button as soon as they click the link.
Pro tip:- If your goal is to get more and more page views, then you should optimize your ads for Landing page views.
Engagement
You can go for Engagement ads if your goal is to get more Page Likes, Post engagement and event responses.
You must have seen those Facebook posts with a zillion of likes and shares.
If you want something like that then you can go for these ads.
Personally, I have used it multiple times. Here is one example.

For this particular post for one of my pages, I got 57K likes.
App Installs
If you want to drive app installs then this is the campaign for you.
Most apps which have loads of Installs use this campaign to drive installs.
If you/your client does not have an app then this objective is useless for you.
I have used it in the past. What I did was I set up a different campaign for different Mobile devices.
I had one campaign for Samsung, one for Micromax and so on.
My copy was like:- Best app for Samsung phones. Click to download.
Video Views
This is a very powerful Ad objective.
You can use this to garner views for your videos.
This is pretty powerful because you can create an audience of people who have watched a certain portion of your video and then retarget them.
Isn't it cool?
You can create the following Video Views audiences:-
A. People who have watched 3 seconds of your video
B. People who have watched 10 seconds of your video
C. People who have watched 25%, 50%, 75% and 95% of your video.
After creating an audience you can retarget these people with more content/offers.
Lead Generation
This is the objective for you if you want to Generate Leads for your business.
With traditional PPC ads, you need a landing page where people can submit their details.
However slow landing pages ruin the customer experience.
This is where Lead Generation ads from Facebook come into the picture.
For these ads, you don't need to create a landing page.
Once somebody clicks on the ad, a form will popup inside facebook.
Even cooler, Facebook will pre-populate this form with details which user has made public on their profile.
Messages
Use this objective to initiate conversation with people in Messenger.
This is pretty useful when you are running your retargeting ads.
You can run this ad and initiate conversation with people inside messenger to understand what's stopping them from buying etc.
Remember, I said with Facebook ads you get what you ask.

So, If you want to generate more and more post engagement you must run Engagement Ads.

If you start running Traffic ads and your goal is to get engagement, you will not be able to achieve your goal.
Conversion Ads
Conversion ads category is divided into 3 Parts.
1. Conversions
2. Catalog sales
3. Store Visits
Conversions
This is the most used ad objective on the Facebook Platform.
You can use this Objective if your goal is to drive conversions for your product/service.
Conversion could be Sales, Lead Generation etc based on your business needs.
To use this ad format you need to have pixel installed on your website.
This ad objective uses Facebook Pixel to gather data and optimize campaign performance.
Catalog Sales
If you have multiple products on your website then it would be very difficult for you to create individual ads for each product.
This ad format lets you promote your catalog to users.
You can use this format for retargeting ads as well to reach a cold audience.
Again to use this You need to have a Facebook Pixel installed, Catlog set up inside Facebook.
Store Visits
This is the last Facebook ad objective.
Store visits is a great option for you if you want to drive people to your Physical store.
My Take
With so many options it can get confusing for you to select the best Ad Options.
Selection of Ad Options depends on your Funnel and goal.
If I am promoting a new product say Facewash for women then here is how I'll go about it.
Step 1- I'll start with a video talking about taking care of face etc. Alternatively, I can also drive traffic to a blog post.
Step 2- I'll make an audience of people who have watched my Video/Visited my blog.
Step 3- I'll create reach out to these people with more content.
Step 4- Create omnipresence kind of campaign with Facebook Awareness and Reach ads. My goal here is to stay visible to people who have shown interest in my product.
Step 5- Run conversions ad to people who have Watched my previous content/engaged with ads.
Step 6- Run remarketing campaign to people who have visited my product page but haven't bought the product.
Step 7- Run conversions ad to sell more product to people who have bought a product in the past.
Step 8- I'll also run a Thank you campaign to people who have bought the product. This could be awareness/reach campaign.
Hope this helps. Which ad objective according to you is the best?
Share your thoughts in the comments.